!v1.0>

<!DoNotParse>
News [11/7/2023]:
The march through the (now reduced) pile of doujin games continues.

Mondai Kousatsu '92 (18+)
Sailor Moon S (18+)
Slime Master
Slime Master 2
The Bitmap Graphic of Glass Corpse (18+)
Wakuwaku Bunkasai

---
News [8/27/2023]:
Some Compile games I'd never gotten around to reviewing, and some other more obscure stuff.

Madou Monogatari 1-2-3
Madou Monogatari ARS
Million Fever (18+)
Puyo Puyo 2
Scoop-kun
Silens - Berserker Front 3

---
News [7/19/2023]:
Still working through the doujin games; some interesting, some less so.

Assault Alien
Monster Shooting
Pazz29
Shiawase na RPG
Tsuki no Hikari ni Madowasare 2 (18+)
Ushinawareta Miyako

---
News [4/18/2023]:
Only 5 new games this time, as I realized a bit late in the process one was a duplicate of an earlier game.

Akazukin-chan ni Ki o Tsukete (18+)
MZ3
Paradise Gate (18+)
Plus
Sky Copter

---
News [2/5/2023]:
Still working through the doujin games, and some requests that reader's kindly filled; here's 6 more, including some of the long-running Jewel Hunter Lime series.

Battlancer (18+)
Battlancer 2 (18+)
Jewel Bem Hunter Lime 7
Jewel Bem Hunter Lime 8
Junk Jankey's 2 (18+)
Moon Breaker

---
News [1/2/2023]:
"Since 2003" ...who runs a website for 20 years? Anyway, happy new years and six more games.

Boy Meets Girl
HedgehoG
The I/O City
Jewel BEM Hunter Lime 6
JFK 1960 - Presidential Election Simulation
Reines du Sabbat

---
News [12/3/2022]:
Six games, mostly doujin. Also, a FIVEC update.

Asami-chan's Picture Diary (18+)
Bunny Girl
Girldrush
Fate - The Ancient Relation
Jewel BEM Hunter Lime 3
Jewel BEM Hunter Lime 4

---
News [11/5/2022]:
Six games... although it turns out that Raid Wind was misidentified (there's another version of it, properly called Raid Wind Plus now) so that had to be sorted out.

0 wa Rei-chan no Rei (18+)
Berserker Front
Hotaru (18+)
Night Gunner
Raid Wind
Threesome (18+)

---
News [9/29/2022]:
Back with six doujin games, including a bunch by New York Spirits. Also fixed the omitted link for the english version of Marble Cooking.

Circuit Angel (18+)
Cycles Plus Plus (18+)
Erotic Grand Prix (18+)
Fervent Nereid Remix (18+)
Lover's Kiss (18+)
Milky Doll (18+)

---
News [8/2/2022]:
Some kind users supplied a number of my requests, so I've reviewed and added those games as quickly as I could.

Around
Battle Ball Panic (18+)
Bishoujo Senshi Sailor Moon R
Doki Doki Amanachan 2 (18+)
It's Time Up!
Ponchi-Kun (18+)

---
News [6/1/2022]:
Six more games from the Doujin & Homebrew section. So more tag fixes for adult content.

Beast 4 (18+)
Jankan AV (18+)
Mame Game
Maze 776
Maze 777
Needle Garden Vol 2 (18+)

---
News [4/17/2022]:
Technically 4 days early... but who's keeping track. Six new games as I continue to work through the Doujin & Homebrew section. Also fixed the adult tags not showing up beyond Nudity; who knows how long that's been broken for?

Hanyou Quiz Game Matchan 3
Manma no Boukenki - Oni Legend
Momotaro Densetsu 91 (18+)
Mon Mon Shinkei Suijaku 2 (18+)
Tequira Sunrise (18+)
Twins (18+)

---
News [3/21/2022]:
Six games, mostly doujin stuff, including the last (as far as I know) of the GGG Soft shooters.

Air Alert 2
Galt-Rio
Momotaro Gaiden - Momoko-chan Fight! (18+)
Moldy Word
Moldy Word 2
Super Perfection

---
News [2/28/2022]:
Five games, mostly Adventure. It was supposed to be six, but I'd actually reviewed Dracula before.

3x3 Eyes Sanjiyan Henjyo
Aku no RPG
Chotto H na Daihinmin (18+)
Marine Philt (18+)
Sanshoku+

---
News [1/22/2022]:
Back for the new year with six more games.

HardRank
JANK201
Madou Akazukin Monogatari
Sentai Plus
Ureshii Saiminjutsu Kouza (18+)
Urawa

---
News [12/18/2021]:
Probably the last update of the year, but it's a pretty good one. 6 new games, including a freshly-dumped doujin game a reader sent me.

Arctic
GRAFight
Isaku (18+)
Lenam - Sword of Legend
Magical Panic (18+)
Sailor Party (18+)

---
News [10/17/2021]:
6 more games, still mostly from the NeoKobe Doujin & Homebrew collection. Working through a lot of those games has required some effort getting them running and/or figuring out how to play them.

Demon Seed ACT-1 (18+)
Exhaust Note
Nekomimidon (18+)
Rar Metal
SYS
UFO Shooting

---
News [8/31/2021]:
6 more games, mostly from the NeoKobe Doujin & Homebrew collection.

Gunspot
Psyculy
Snowman
Star Plate
Sugayers (18+)
Virtues Angel

---
News [8/16/2021]:
FIVEC 1.2 released. Expands some BKDSK format support and adds DIP support. Next update is probably going to be a while, as it'll need to be retooled quite a bit to get VFL/VFZ working.


News [7/11/2021]:
6 more games, from various sources.

Absolutely Mahjongg II EG - Renaissance no Houkago (18+)
Bishoujo Audition - Idol o Sagase! (18+)
Gun Mouse
Quicks
Sailor Sweeper
Mobile Suit Gundam 0083 - Stardust Operation

---
News [7/3/2021]:
Added some documentation on the T98-Next HD format (*.NHD) over on the FIVEC section.


News [5/30/2021]:
Enough FIVEC, back to actual PC98 games. Most of the below are from the NeoKobe "Doujin & Homebrew" section.

Aido-tachi no Yakata (18+)
Hime-chan no Ken
Hover Tank Hetzer
Kusuriyubi no Kyoukashiyo (18+)
The Ooya-san (18+)
Virtua Invader

---
News [5/28/2021]:
Added documentation for the DIM and DCP/DCU formats.


---
News [5/26/2021]:
FIVEC 1.1 released. It includes conversion of HD images.


---
Site News
News [5/22/2021]:
Added some documentation on the FDI / HDI / D88 file formats under the FIVEC section, in anticipation of Version 1.1. I'll add some of the other formats in coming days as well.


---
News [5/9/2021]:
Minor update, but a reader pointed out two issues with games I had recently uploaded. One had a spelling mistake in the file names, and the other displayed the images out of order, which made the story much harder to follow. I've uploaded fixed copies:

Bishoujo Senshi Sailor Moon R Manga Ban 18+
Seifuku Mansion - Tadaima Manshitsu 18+

---
News [4/20/2021]:
So... wasn't aiming for this date imparticular, but the time has finally arrived for the initial release of FIVEC. Also, be careful with your romhacks. Things can go... pretty wrong: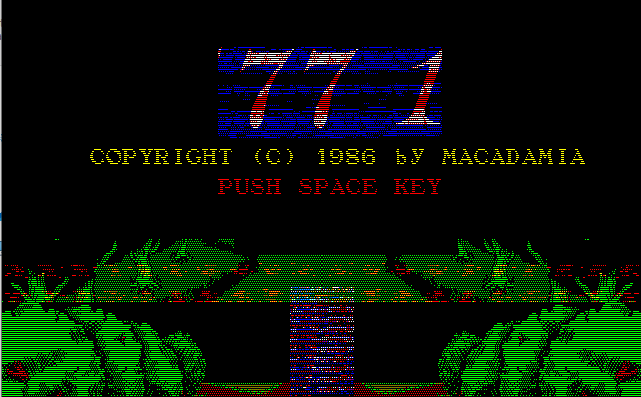 ---
News [4/13/2021]:
Yes, past the end of March on the promised v1.0 of my project (Now named FIVEC), but it turns out that during the process of adding features, I broke the FDD saving routine, so I'm having to fix and retest all that.
In the meantime, here's a game update (With some site fixes, including some requests):

Bishoujo Senshi Sailor Moon R Manga Ban 18+
Cycles Plus
Dodeka Maze
Reijou Monogatari 18+
Seifuku Mansion - Tadaima Manshitsu 18+
The Hidden Lovers: Ray (18+)

---
News [3/13/2021]:
Six game update, and I appear to have finally resolved the issues with saving in NFD r1 in the File Conversion utility. Looking for an initial release on that end of March.

88 Fleet Program Story
Beast (18+)
Beast 2 (18+)
Keep the Heart
Marubatsu EXE (18+)
Mech Brigade

---
News [3/6/2021]:
An update on the image converter/editor project, not a game update (I'll try to get to that later this month)
Right now, the program can load the following images types: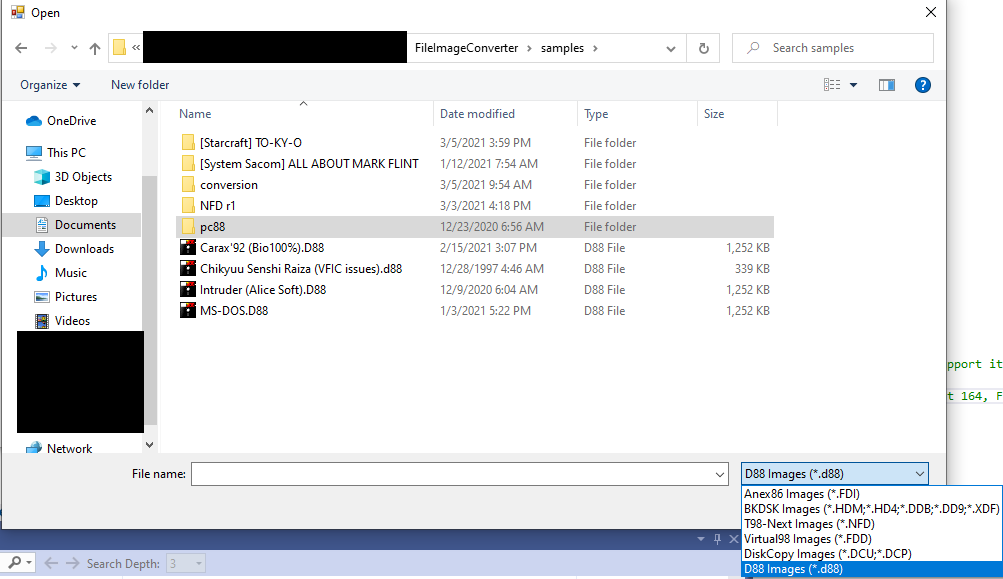 This now includes D88 images, which are the only multi-disk format it handles: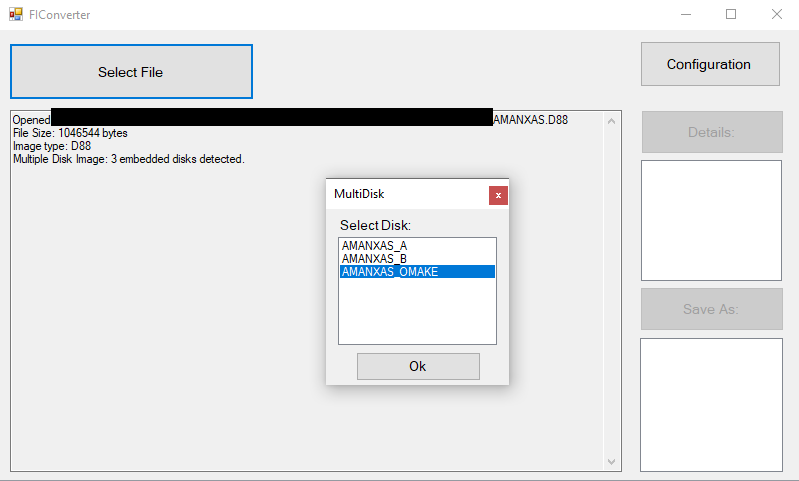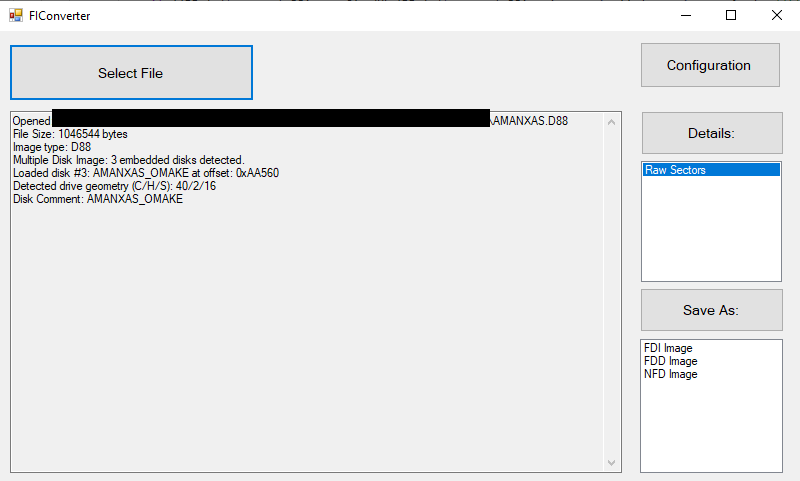 Saving is currently limited to FDI, FDD, and NFD (Well, and the headerless BKDSK formats, which are only enabled if the data is compliant for being saved in that format.)

So I've got two more formats the user needs to be able to save to: (D88 primarily, DCP/DCU is barely used)
An additional compressed format it needs to be able to at least load: (VFL/VFD)
Also, there's a couple of formats that VFIC handles that are rarely seen: (FIM, FIX, Mahalito, TFD) and the HD formats, most of which look pretty simple.

I'll release at least the first version here soon, just want to make absolutely sure the converted images are converted correctly; that's mainly an issue with making sure some of the special read/register data on the NFD r1 disks is properly handled, since those are a bit rare.

Also, related to the website, I believe I'm going to remove the RSS feed next update. It appears no modern browser even supports it anymore.


---
News [2/6/2021]:
First update of 2021, six more games.

Color-kun Da!
Detrimental School (18+)
Endan Tokugawa Kouryuuki - Gorakuin (18+)
Lovely Horror - Ochame na Yuurei (18+)
Osanazuma Funsenki - Joshikousei Idol (18+)
Tokou - Adventures of Mimi

---
News [12/31/2020]:
Progress continues on the file conversion/editing utility I discussed earlier, but I also found time to review a couple of games before the year ended. Bishoujo Tengoku (18+)
Crystal Quest (18+)
Katei Kyoushi (18+)
Play Maker Football
Sala (18+)
St Jeremiah Gakuen (18+)

---
News [12/19/2020]:
Sorry, no games in this update... but it does involve an explanation of what I've been up to. Basically, I've been working on some of the game images and files that had been sitting in my unsorted collection, primarily because they weren't functional for one reason or another. So I started by making a tool to read and convert disk images (much in the style of VFIC) and it's kind of morphed into a expanded PC-98 disk editing tool. No alpha version yet, but some screenshots below: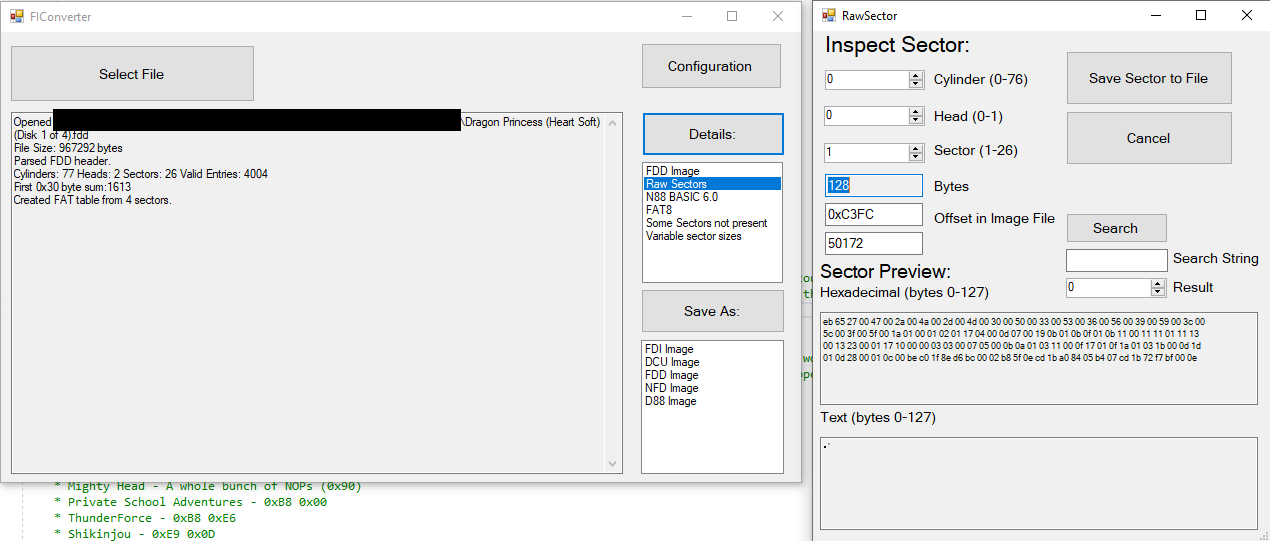 The basic functionality I started with was the ability to import images, export them to other formats (with a bit more interaction than just VFIC's) as well as look at the disk sectors. In particular, because several of the disk formats allow for skipped/out-of-sequence sectors, you can see where the sector appears in the imported image ("Offset in Image File") so you can look at that if you have it open in a hex editor. You can also search for text strings through the various sectors.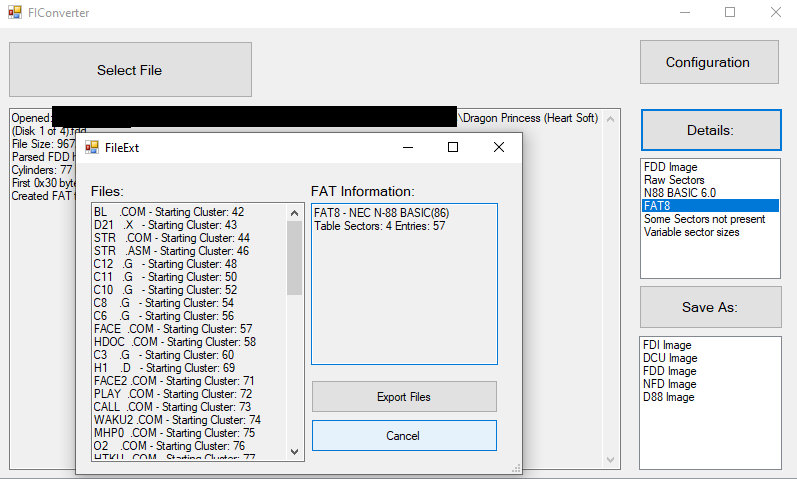 There's a number of programs already existing to extract files from MS-DOS disks and FAT12/16 (AnexDiet/EditDisk) but not so much when it comes to the more obscure forms of FAT. A lot of the earlier games on the platform utilized N88-BASIC (The 86 version, similar to what is used on most PC-88 images) which has the irritating property of using inconsistent FAT8 designs that vary on the disk size used. So the goal here is that eventually, the utility will be able to copy files too and from such disks, to make hacks/translations easier.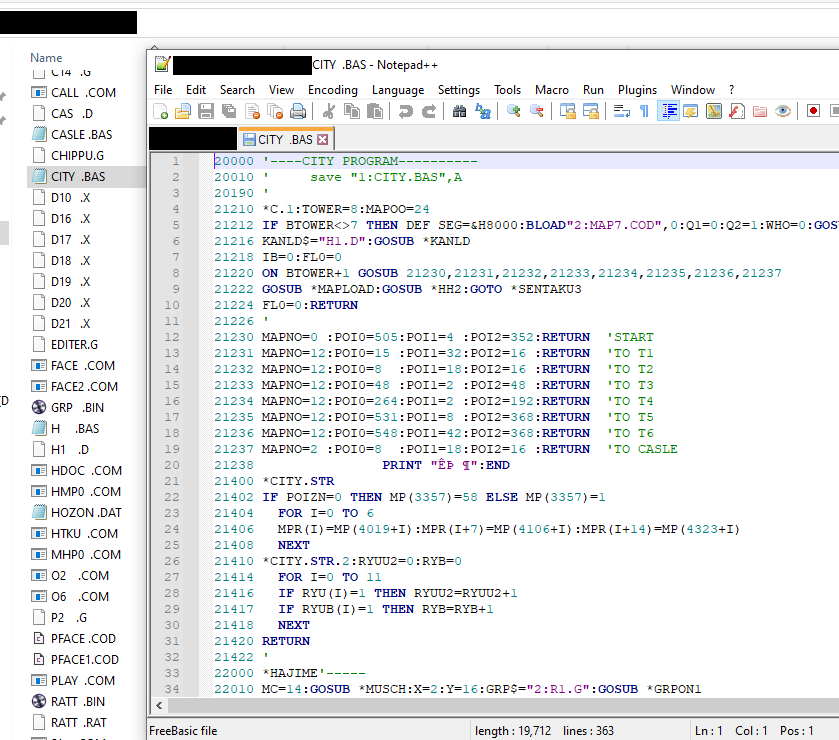 The fruits of a successful extraction. Don't get your hopes up too high, most of these games used tokenized BAS files, leaving the full original on the disk was uncommon. That's... a feature for a distant date.

In any case, I hope to have a beta version available for download by early 2021.

---
News [11/8/2020]:
Thanks to a reader donating their collection, there's some good new games in the pipe. This update, it somehow ended up with any 18+ games, for change (Well, as long as you're not a bovine) AI Go 3
BattleTech: Holy Grail
Black Rainbow
Black Rainbow 2
Cattle Mutilation
Ex-Lander: Knights of the Blue Crest

---
News [10/10/2020]:
Well, it's been a good year for playing PC-98 games and website updates, I suppose. J No Higeki
Nuriri Mel Mel-chan
Oskar's Cube
PILCaSEX 18+
Sakura 2 18+
Wrestle Angel V2

---
News [9/2/20]:
Had a bizarre issue where the server was automatically deleting one of the games, probably because of a bad hash. It's now back up, although I had to put a password on it "pc98" Private Tutor Adventure (Fixed Download) 18+

News [8/22/20]:
An monthly update, and also some site improvements. Now the tag indexes (particularly the company tags) have a blurb discussing them, and links to the company webpage if it still exists. I still need to add more general summary pages (like the by company listings pages I had earlier) but that won't make this update. Acho-X
Private Tutor Adventure 18+
Quiz Seifuku 18+
Sekizui Hansha de Atcho
Spent Runner '91
SWARS

---
News [7/25/20]:
...just barely made the July update, but there's been some promising new games to sort through. Still fixing various issues with the website as I go, send me an email if you notice something wrong. Asterisk (18+)
Dragon Souseiki
Dynamite Tank
Quiz Knight - Mikansei Version
Sent Magical Girl Milfy Mayu (18+)
Space Fleet

---
News [6/1/20]:
Monthly updates?! 2020 has indeed been strange. I'm not the only one with more time to look at old webpages, sutorippu.com is being resurrected, although the site admin hasn't gotten most of the sections working at this time. I'm still working on some of the issues with my new site design, disk type should now be featured again. (Properly alphabetized categories though... working on that) Devil Chain 2 (18+)
Devil Chain 98 (18+)
DOOM
DOOM 2
Wedding Peach
Wrestle Angel V3

---
News [5/10/20]:
I have to admit, I've had more time to play PC-98 games that I have in some while. I forgot to upload the Tokimeki image on the 2nd, it's fixed now. Knucle Fighter
Mechanizer
Omega
Shikimi (18+)
Star Puncher Kiki Ippatsu! (18+)
Tokimeki Girls - Love Like Ours

---
News [4/6/20]:
First real post-redesign update, still working on tagging games and fixing broken stuff. Jankipon 2.0 (18+)
Oerstedia
PolyWar 3
Yukonis no Mori de....
Zenkai
Zenkai 2

---
News [3/22/20]:
Site re-design at long last! Now almost all the game categories have clickable "Tags" so you can just to other games of that sort, by that company, etc. No new games for this update... but I'll have those along soon.
---
News [2/16/20]:
First update of the new year, some more doujin games. Advanced Dogiemon
The Elemental Quest - Search for Power
Feiren World Bangaihen 2
K-Tora USA
Midnight Waitress 3 18+
Taisen Hanafuda

---
News [12/25/19]:
Surprise Christmas update? Why not! Six more games. Help
Jewul Bem Hunter Lime 2 PG-13
Oyaji Spirits
Petinger 18+
Turbo FreeWay
Ulamander

---
News [11/23/19]:
Probably the last site update for the year, working on clearing my backlog of doujin games. Agalta
Agalta II
Agalta III
Baqman
Great Genocider
Youkai no Sato

---
News [10/19/19]:
I've been sorting through lots of doujin games, so I might as well do some site updates. Maze999
Salamander
Shield Sprite
Shuuchuuryoku Yousei Gibs Konjou Hen
Shooter's Solitude
XYZolog

---
News [9/7/19]:
Perfect Dark was at least a passible source for doujin games, so I've got some new ones from there, although it seems a lot sparser than it was years ago. Not much luck on my Requested Games but I did get at least one. Bishoujo Senshi Sailor Five 18+
Insect - Indecent Beast Prisoner 2 18+
Kemesis
Mana '94 18+
Mayumi - School Adventure Game 18+
Summer Resort Chuukintou 2
---
News [6/10/19]:
First post of 2019! About half way into 2019. First let me start by apologizing to some of my requesting people, I found two of the games I said I didn't have after your emails. So at least you can download them now. The real thing that got me back to updating though was discovering a treasure trove of doujin PC-98 screenshots. So needless to say, my Requested Games Page has been greatly expanded. Card Busters 2: Holy Spirit of the Resurrection
Doukyuusei 18+
Ginjo Megane Musume 18+
Metal and Lace 2 18+
Slayers
Shinku Leotard S Marionette J Noe Emaki

---
News [11/18/18]:
Back with some decent RPGs from TGL, and some... other stuff. Horny Sweeper, at long last. Horny Sweeper 18+
Might & Magic: Secret of the Inner Sanctum
Multies
Pure 18+
Sword Dancer
Sword Dancer 2: Goddess of the Evil Blade

---
News [8/4/18]:
I've been going through a lot of the Compile Disc Station games since they were parsed out and posted on the FMV forums. Also, I've been trying to knock out some of the anime license titles I've just never bothered with. Ah! Megami sama
Junjou Ninja Hana Ketsu no Bakudan Maru 18+
Junjou Ninja Hana Ketsu no Bakudan Maru 2 18+
Junjou Ninja Hana Ketsu no Bakudan Maru 3 18+
Marvel Putt Golf
Mobile Suit Gundam: A Year of War

---
News [6/9/18]:
Mid...year update? Also, consider this your GDPR notification: I don't run ads or trackers. For those curious about what the GDPR is, try here. AI Shogi
Bomber Quest 18+
Gokuraku Tengoku - Omemie no Maki 18+
Jack: Haitoku no Megami 18+
Telephone Bell.. 18+
Tenchi Muyo: Ryo-Ohki

---
News [12/31/17]:
Squeeking in an actual update for 2017! Miracles never cease. Chika-chan's Wonderful Land
Gaiflame
Maryiu Gakuen Nerawareta Shitai 18+
Premature Damsel 18+
Sweet Voices 1 18+
Virgin 2 Hana Hiraku Shoujo-tachi no AVG 18+

---
News [9/1/17]:
I'm so slow to update, that game translations are piling up. Here's two more. CRW
Rusty

---
News [5/20/17]:
Just a very small update to add a newly translated game, and fix a few things in older game sheets. E.V.O: The Theory of Evolution

---
Old News has been moved here.